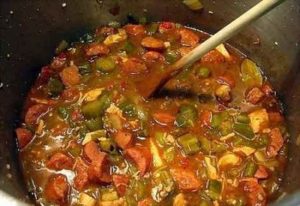 Low Carb Anything Goes Gumbo. Another one of those southern comfort foods. A Louisiana purist might have you believe it should be a shrimp & andouille sausage gumbo or a chicken & sausage gumbo but don't ever mix them all together. Can I put mushrooms in my gumbo? I say hogwash-there is no "perfect" gumbo combination except what you want it to be and what tastes good to you. Gumbo is nothing more that a glorified beef-less stew and we all know you can put about anything but the kitchen sink in a stew. So have at it cause everything you add brings a little more flavor to the party. Gumbo is also traditionally served with a big scoop of rice either under or on top and we will not be using that either. This uses fried riced cauliflower and by the time you finish the gumbo you won't miss rice. I've had gumbo so hot it almost knocked my socks off and I've also had it pretty bland so you will have to taste test this and add your heat as necessary.
There is no flour in this so there is not that deep flavor that only comes from a roux but we are going to make it up in some other ways and we can thickened it a bit with this and that.
For a list of products you may not be familiar with and used on this site, please read Low Carb Pantry Essentials. I am NOT sponsor-compensated for recommending a product that I use*** And here, in one tidy package, are over 550 Keto~Paleo~Low Carb~Diabetic Chef's Recipes
As I am a Type II diabetic, all recipes on this website are low carb and diabetic friendly.
Gumbo
2015-05-12 10:53:14
Ingredients
1 Large Cauliflower
3 T Fat
1 Lb Andouille Sausage Cut On The Bias ½" Thick
1 Lb Medium Shrimp
2 C Shredded Chicken (About ½ Picked Chicken)
2 C Cut Okra
5 C Stock (If You Poach Your Chicken)
2 T Chicken Base
5 T Fat (I Use Lard Or Saved Bacon Fat)
1 Medium Diced Yellow Onion
1 C Diced Celery Cut On The Bias ¼" Thick
1 Diced Red Pepper
½ Lb Sauteed Mushrooms
1 T Crushed Garlic
1 Can Small Diced Tomatoes
3 T Tomato Paste
1 T Cajun Spice
1 t Paprika
1 t Dried Thyme
½ t Cayenne
½ t Chipotle Powder
½ t Garlic Powder
½ t Onion Powder
3 bay leaves
Salt & Pepper Only To Taste
Sprinkled Xanthan Gum/Guar Gum To Thicken As/If Wanted
Instructions
Sauté mushrooms in 2 T fat/oil & set aside.
While your gumbo is cooking, sauté & brown your cauliflower rice in 3 T fat.
Place a large saucepan over medium heat.
Add rest of oil/fat along with onion, celery, and bell peppers & cook until onions are just translucent.
Add stock, diced tomatoes, all spices, bay leaves, and okra & simmer for 10-15 minutes.
Add tomato paste.
Remove bay leaves.
Add andouille sausage, mushrooms, and chicken, & simmer for another 5 minutes.
Lastly, add your shrimp and salt & pepper (and only as/if necessary) and cook for another 5 minutes.
Put fried cauliflower in a bowl, top with gumbo and have it.
6 Servings
563 Calories, 36.6g Protein, 39.5g Fat, 15.3g Carbs, 4.0g Fiber, 11.3g Net Carbs
Notes
I happen to like my gumbo pretty spicy so add your heat spices slowly, do a taste test & then add more as/if necessary.
Low Carb Scams https://low-carb-scams.com/