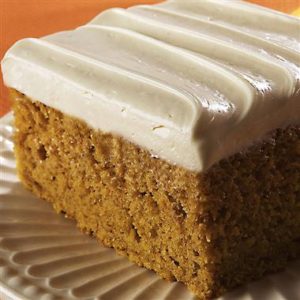 Low Carb Almond Pumpkin Cake Maple Cream Cheese Icing. Tis the season for all things pumpkin and this almond pumpkin cake is not just for the holidays. I found this recipe while listening to a podcast between Jimmy Moore and Melissa Joulwan. Original recipe at: http://www.theclothesmakethegirl.com/2011/11/15/paleo-pumpkin-gingerbread-cake-with-maple-vanilla-frosting/ The recipe sounded terrific except for the maple syrup & honey which would have added far too many carbs and for me that is an absolute no-no. Soooo…I did a little finagling and came up with what I think is a pretty good facsimile. It is deliciously rich, freezes perfectly, and you can eat it year round. The whole recipe using no maple sugar and no honey which saves a whopping 50g carbs or 8.3g-5.6g carbs per piece respectively. Alas, the original recipe was Paleo but my version is not. Close-but no cigar. It is extremely moist, and has "no" almond flour. The secret is almond butter. Crushed pecans or walnut could also be a welcome additional topping.
Thank you Melissa, it is the perfect ending to any meal.
For a list of products you may not be familiar with and used on this site, please read Low Carb Pantry Essentials. I am NOT sponsor-compensated for recommending a product that I use*** And here, in one tidy package, are over 550 Keto~Paleo~Low Carb~Diabetic Chef's Recipes
As I am a Type II diabetic, all recipes on this website are low carb and diabetic friendly.
Almond Pumpkin Cake-Maple Cream Cheese Frosting
2014-10-03 05:57:27
Cake Ingredients
1 Can Pumpkin Puree
1½ C Almond Butter
¼ C Sugar Free Maple Syrup***
¼ C Just Like Sugar Brown***
8 Drops Liquid Sucralose***
2 Egg
2 t Baking Powder
1 T Vanilla
2 t Cinnamon
2 t Ginger
½ t Nutmeg
¼ t Clove
Frosting Ingredients
8 Oz. Cream Cheese
8 Oz. Butter
16 Drops Liquid Sucralose
¼ C Sugar Free Maple Syrup
1 t Maple Flavoring
2 t Vanilla
Toasted Crushed Pecans (Optional As Topping)
Instructions
Preheat oven to 350 degrees.
Very lightly butter bottom of 10"x10" cake pan & then line with parchment.
Mix all cake ingredients and put into pan. One of the great things about baking without sugar is that nothing much sticks.
Bake 30 minutes. You will know when it is done as the top will crack in several places. When it cracks somewhere in the center remove from oven and cool on the counter. Melissa says to cool, cool, cool it and I say cool it and then stick it in the refrigerator. Before refrigeration, loosen the edges and making sure the cake is "free" from the pan, invert it, take off parchment paper, and cover it. If you don't feel comfortable inverting such a large cake then by all means leave it in the pan and frost only the top. If you opt to just frost the top you will have left-over frosting which you can freeze for later use.
Beat all frosting ingredients, frost the top and sides, add optional pecans and refrigerate again.
Cut into 12 or 16 equal pieces.
16 Servings 2½"x2½" rectangles
237 Calories, 5.3g Protein, 20.7g Fat 7.3g Carbs, 3.4g Fiber, 3.9 Net Carbs
12 Servings 2½"x3" squares
216 Calories, 7.1g Protein, 15.5g Fat, 9.7g Carbs, 4.6g Fiber, 5.4 Net Carbs
Low Carb Scams https://low-carb-scams.com/