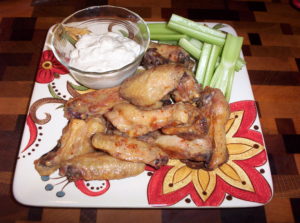 Keto ZeroCarb Buffalo Wings. These are the Buffalo Wings I have been making for the last 20 years. It is taken from Chef John Vyhnanek a chef, author, and instructor for Boston University's culinary arts program. In the past I had tried many other hot wings sauces and for me this is absolutely, by far, the best. You can't get lower than keto zerocarb buffalo wings.

I find that I need only about ½ of the hot sauce recipe for about 3 lbs. of wings but the rest of it will last in the refrigerator forever…or at least until the next time you make wings. I serve these wings with my Bleu Cheese Dressing or Ranch Dressing and of course fresh celery sticks. We tend to kind of pig out on these puppies and even as old as I am I can sometimes easily eat 1 lb. all by myself…oink, oink.
For a list of products you may not be familiar with and used on this site, please read Low Carb Pantry Essentials. I am NOT sponsor-compensated for recommending a product that I use*** And here, in one tidy package, are over 550 Keto~Paleo~Low Carb~Diabetic Chef's Recipes
As I am a Type II diabetic, all recipes on this website are low carb and diabetic friendly.
Buffalo Wings/Hot Sauce
2013-10-23 11:03:13
Ingredients
¾ Lbs Split Chicken Wings Per Person
Salt
Sauce Ingredients
3 Oz Tabasco Sauce
3 T Butter
¼ t Cayenne Pepper
¼ t Black Pepper
¼ t Salt
½ T Lemon Juice
½ T White Vinegar
1 t Dijon Mustard
Directions For Wings
Preheat oven to 425°.
Line up wings on a sheet pan (on a Silpat if you have one), sprinkle with salt & pepper, and put into hot oven.
Bake 40-45 minutes or until crispy and golden brown & delicious.
Directions For Sauce
Combine all sauce ingredients except butter and heat just slightly. Remove from heat and whisk in butter 1 T at a time. If you have gotten your ingredients too warm after adding your butter the sauce may "break" and this will not matter one bit. Don't worry about it.
Remove wings to a stainless bowl, spoon several T of sauce over them and toss well. It will take less sauce than you think and any sauce in the bottom of the bowl is basically lost and all this of course depends on the number of people you are serving. I find I can get a maximum of 3 lbs. wings on a crowded sheet pan.
I am not listing carbs, protein, etc. because this is essentially a zero carb meal.
Notes
If you find the sauce too spicy (it's not) this can be remedied a bit by adding more butter.
If you prepare your pan as described above there is very little clean up as all you have to clean is your Silpat.
Low Carb Scams https://low-carb-scams.com/