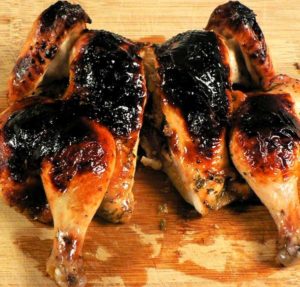 Keto Spatchcocked Chicken A l'Orange. Spatchcocking is a fancy name for cutting out the backbone of a Cornish hen, chicken, or duck then flattening it. It is best done with kitchen shears and can certainly be done with a good boning or chef's knife. For obvious reasons the smaller the bird the easier it is to cut through the bones. The reason I like and use this method is that the bird will cook more quickly & more evenly. The smaller the bird the less time it takes to cook & the higher the oven temperature should be.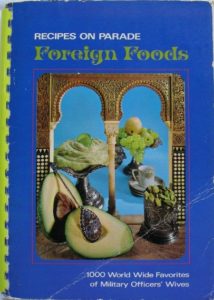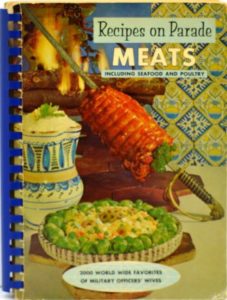 A little story here. I have both of the cookbooks to the right and have probably had them since about 1970 or 1971. The meats book was published in 1964 and the foreign foods in 1970. In '64 I was a goofy sophomore in high school but was married by '70. My one and only cookbook at the time was the 1968 edition of the Joy of Cooking and I wanted to expand my horizons a bit so I got both these books. As I look back and through them they do indeed seem a bit antiquated but then…so am I. All the recipes are from servicemen's wives with the first three from Mrs. Lyndon B. Johnson, Mrs. John F. Kennedy, and Mrs. Robert S. McNamara. Whoa have things changed. It's like these women didn't have first names. My absolute favorite vegetable accompaniment is Ginger Curry Sweetened Cauliflower Rice because the flavors are so similar.
So here's the deal. This particular recipe was so good that I continued making it through the years. Not only for myself but in the restaurant as well. As a half chicken is often served at catered affairs this was easy to fix for 40-50 people. Just sheet pan after sheet pan in a large convection oven. I have not had this for over 4 years because the original recipe not only called for brown sugar but also a cup of orange marmalade-Oops and keto spatchcocked chicken a l'orange uses neither of these high carb ingredients.
The original recipe on page 280 of the Meats book called for Cornish hens but one of the "problems" that has occurred over the years is that Cornish game hens have gotten larger and larger. At one time they were a mere 12-14 oz. and could be eaten by one person. Today's hens are 24 oz. and will serve two. Get this-apparently Perdue has one that clocks in at 32 oz. which is the USDA maximum. OK, with all this blathering I suggest if there are two of you then use one Cornish hen and if there are more of you I would do a chicken. The sauce is enough for 4 hens (8 people) or 1 chicken (4 people) and if you have leftover sauce (you won't) it will easily freeze for the next time. I have changed the sauce as little as possible and for a diabetic or low carber I think I nailed it pretty danged well as it is close to zero carbs.
Now I have prepared Duck A l'Orange table-side but…that's another story, and this keto spatchcocked chicken a l'orange is not only easy to make, it is to-die for good.
For a list of products you may not be familiar with and used on this site, please read Low Carb Pantry Essentials. I am NOT sponsor-compensated for recommending a product that I use*** And here, in one tidy package, are over 550 Keto~Paleo~Low Carb~Diabetic Chef's Recipes
As I am a Type II diabetic, all recipes on this website are low carb and diabetic friendly.
Spatchcocked Chicken A l'Orange
2015-09-13 10:02:49
Ingredients
1 Whole Chicken Or 4 Cornish Game Hens
1 T Melted Butter
¼ C Just Like Sugar Brown***
1 C Water
3 T Red Wine Vinegar
2 t Worcestershire Sauce
1 T Orange Extract
½ t Powdered Ginger
½ t Curry Powder
¼ t Salt
⅛ t Pepper
12 Drops Liquid Sucralose***
⅛ t Xanthan Gum (Or Less Sprinkled A Little At A Time At The End)
Instructions
Making sure birds are room temperature, preheat oven to 375° for chicken or 425° for smaller birds.
Except chicken, butter, and xanthan gum, put rest of ingredients in small sauce pan, mix, and heat to simmer for 1-2 minutes. Whisking briskly, sprinkle slowly with xanthan gum until it begins to thicken very slightly.
Spatchcock bird(s), drizzle & smear with butter, and put on a shallow foil lined sheet pan.
Brush each bird with sauce.
Cook chicken for about 50-60 minutes or until skin is very crispy and beginning to darken.
Cook hens for about 35-45 minutes or until skin is very crispy and beginning to darken.
If the cooking time is about done and your birds are not dark put them under the broiler for a couple of minutes.
Remove from oven and allow to rest at least 5 and preferably 10 minutes.
Pour any fats and bird juices into sauce and reheat.
Split hens or divide chicken into 4 pieces, plate and drizzle with remaining sauce.
Spoon sauce over meat.
4 Servings Whole Chicken
375 Calories, 29.6g Protein, 28.4g Fat, 0.3g Carbs, 0.0g Fiber, .3g Net Carbs
8 Servings Cornish Hens
307 Calories, 27.0g Protein, 31.2g Fat, 0.3g Carbs, 0.0g Fiber, .3g Net Carbs
Notes
DO NOT use too much xanthan gum as you will end up with a slimy mouth feel. A little dab will do ya.
If you get your sauce too thick just dilute with more water.
I didn't do it but you could also leave out the xanthan gum and substitute maybe 1-1½ t cornstarch to thicken the sauce just a little. This would need to be done at the end while reheating as cornstarch is not particularly stable as it is reheated.
I have never done these on an outdoor BBQ grill but I am guessing it could be done and very well.
Low Carb Scams https://low-carb-scams.com/