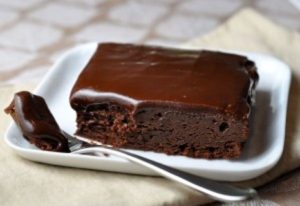 Keto Mocha Zucchini Brownies. Food Mistakes. OK, so everybody likes zucchini cake and there are a million recipes out there and that is what I started out to make. Suddenly things changed…for the way better. Since I like to mess around with my own ingredients, the "cake" turned out very moist & dense, did not raise much, and is seriously a brownie and definitely not cake. I decided to top it with a mocha ganache instead of frosting and good grief they are fabulous.
For a list of products you may not be familiar with and used on this site, please read Low Carb Pantry Essentials. I am NOT sponsor-compensated for recommending a product that I use*** And here, in one tidy package, are over 550 Keto~Paleo~Low Carb~Diabetic Chef's Recipes
As I am a Type II diabetic, all recipes on this website are low carb and diabetic friendly.
Mocha Zucchini Brownies/Mocha Ganache
2014-08-03 07:36:26
Brownies
2 C Finely Shredded Zucchini
½ C Coconut Flour
½ Cup Cocoa Powder
1½ C Just Like Sugar Brown©
¼ C Hot Water
¼ C Instant Espresso Powder
2 t Baking Powder
¼ C Melted Butter
¼ C Melted Coconut Oil
4 Eggs
2 t Vanilla
¼ C Sour Cream
Ganache
½ C Heavy Cream
½ C Sugar Free Chocolate Chips
2 T Just Like Sugar Brown©
1 t Espresso Powder
Instructions
Brownies
Preheat oven to 350°.
Dissolve coffee in water.
Mix coconut flour, cocoa, and baking powder.
Beat eggs, sour cream, coconut oil, and butter.
Beat in Just Like Sugar Brown©, vanilla, and coffee until well blended and blend into dry ingredients.
Stir in zucchini. Pour into a buttered 9"x9" pan and bake for about 30 minutes or until toothpick inserted in center comes out clean. As with all brownies-do not over cook.
Ganache
Heat heavy cream to just under a boil. Take off heat, add espresso powder, Just Like Sugar Brown©, & chocolate chips. Mix until chocolate is totally incorporated.
Spread cooled brownies with ganache.
9 Servings
202 Calories, 6.0g Protein, 16.3g Fat, 7.9g Carbs, 4.0g Fiber, 3.9g Net Carbs
Notes
Since I started out making a cake and ended up with brownies I did not put any nuts in them and I can assure you I would add ½ cup of walnuts.
If you do not have a fine grater for the zucchini you can process it a bit after grating.
Low Carb Scams https://low-carb-scams.com/