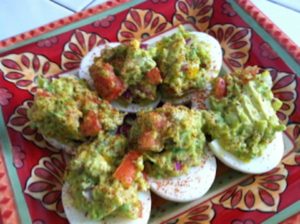 Keto Guacamole Egg Bombs. I have made these pretty little gems many times with bacon but never this way. We had non-pork eating friends for dinner the other night so I left out the bacon and topped them with green onions and tomato and they really do taste like little Guacamole Egg Bombs…so here they are…for your vegetarian friends. Keto Guacamole Egg Bombs make a nice little dinner starter.
This is one of a trio of recipes for a terrific low carb picnic winter/summer indoors or out. The other two companion recipes are Southern Deep Fried Chicken & Macaroni Salad. Now you can have a complete guilt-free meal with a measly 10g net carbs. Not to shabby for a totally fill yourself up meal.
For a list of products you may not be familiar with and used on this site, please read Low Carb Pantry Essentials. I am NOT sponsor-compensated for recommending a product that I use*** And here, in one tidy package, are over 550 Keto~Paleo~Low Carb~Diabetic Chef's Recipes
As I am a Type II diabetic, all recipes on this website are low carb and diabetic friendly.
Guacamole Egg Bombs
2014-08-01 14:50:03
Ingredients
12 Hard Boiled Eggs
1 Large Ripe Haas Avocado
½ C Mayonnaise (More If Needed)
2 T Yellow Mustard
¼ C Green Onion Tops
½ t Spike© Seasoning (Or Salt)
⅛ t Chipotle Powder (Or More To Taste)
½ C Small Diced Tomatoes
¼ C Green Onion Tops (Yes More)
Instructions
Cut eggs in half, take out yolks and put in processor along with cubed avocado, mayo, mustard, green onions and Spike©.
Process until very smooth and pipe or spoon into egg halves.
In small bowl mix the tomatoes, green onions, and chipotle powder then take about one t and embed in top of each egg.
8 Servings
249 Calories, 10.5g Protein, 20.9g Fat, 4.7g Carbs, 2.3g Fiber, 2.4g Net Carbs
Low Carb Scams https://low-carb-scams.com/