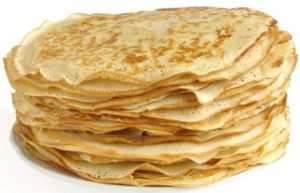 Low Carb Flaxseed Meal Crêpes. Super easy to make and I try to always have some in the freezer as they thaw in about 10-15 minutes.
Just plain, we tear them and use as a scoop instead of bread for Baba Ganoush or Tzatziki and as breakfast pancakes once in a while but my favorite way to use them is filled with cream cheese sweetened with liquid sucralose and pureed strawberries, blueberries, or raspberries. They make an elegant low carb dessert for dinner guests. Raspberry Almond Crêpes
Depending on what you intend to do with these versatile little puppies you can add flavoring extracts to the mix. Examples: 1 t orange extract if making strawberry crepes, or 1 t almond extract if making raspberry crepes. Experiment and come up with your own combos. Here's one dessert recipe Tiramisu Torta and here is an appetizer Crab Rangoon Bundles/Asian Drizzle
They can be just as good as a savory crêpe by adding your own herbs & spices, as a stuffed tortilla…for Chicken Enchiladas, or…an egg stuffed breakfast burrito. Seriously, the sky's the limit. Here is the latest recipe made with these crêpes Mushroom Ham Cheese Quesadillas
As I am a Type II diabetic, all recipes on this website are low carb and diabetic friendly.
Flaxseed Meal Crêpes
2014-11-15 09:03:47
Ingredients
4 Eggs
1 C+6 T Water (More To Thin If Necessary)
¾ C Golden Flaxseed Meal
⅓ C Melted Coconut Oil
Instructions
Beat all ingredients together. Batter will be very thin.
Let batter rest at least 10 minutes (it will thicken) and then add more water only if necessary.
Make sure you keep your mixture stirred as you make each crêpe and you may (or may not) need to add a bit of water.
Put 6"-7" non-stick pan on medium low-medium heat. Put about ¼ cup in center of pan and swirl to make a "crêpe". Cover until dry on top-I let mine get a little darker brown and curled on the edges. Do not try to turn. When dry, gently slide out of pan onto counter to cool. If they fold a little don't touch them until they are cool-they will unfold. You can also just flip the pan quickly onto the counter. If you have a crêpe pan all the better-I do not.
12 Servings
108 Calories, 3.6g Protein, 2.1g Carbs, 2.0g Fiber, .1g Net Carbs
Notes
Crêpes are very "tender" when hot so treat them gingerly. Once cooled they are easy to work with.
As you can see these have nearly 0g carbs and are healthy, healthy, healthy as compared to any regular crêpe at 10.8g carbs. I mean seriously-WOW.
If all you have is the darker flaxseed meal not to worry they will be just as good and just as healthy but they will not "look" quite like a crêpe.
For my dinky family I put these 4 at a time in food wrap.
Low Carb Scams http://low-carb-scams.com/