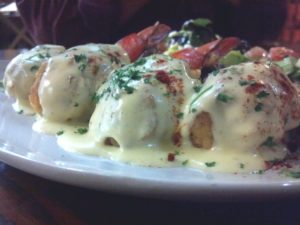 Low Carb Stuffed Shrimp. I have had a lot of really good food in my life and this Stuffed Shrimp is in my top 5. I was unable to eat it for several years until I came up with the Carbalose Flour Bread recipe and now I can finally have it again-YeeHaw.
You will need Carbalose Flour Bread breadcrumbs and the recipe for Sauce Béarnaise.
All my other Carbalose Recipes are listed at the bottom of the Carbalose Informational Page.
As I am a Type II diabetic, all recipes on this website are low carb and diabetic friendly.
Stuffed Shrimp
2014-02-03 11:40:48
Ingredients
1 Lb. Very Large Shrimp (Hopefully 16 Per Pound)
3 C Carbalose Flour Breadcrumbs
¼ C Grated Onions (I put mine is a small processor which will get them very small)
½ C Sour Cream
¼ C Melted Butter
½ t Tarragon
¼ t Thyme
¼ t Pepper
¼ t Salt
2 T Melted Butter
Directions
Carefully peel shrimp trying not to lose the tail meat.
Put bread crumbs in a bowl.
Mix next 8 ingredients together and then mix well into bread crumbs.
Count your shrimp making sure you have that many little flattened stuffing balls. Use about a tablespoon for each which will sit atop your shrimp.
Foil line a pan and smear last 2 T of butter. I like to sprinkle a little salt, pepper, and garlic salt on the butter but it is not necessary. The garlic salt just adds a little something extra-a lagniappe if you will.
Take the shrimp and make a circle tucking the tail inside if possible.
Top each shrimp with a round puck of stuffing.
Bake at 375 degrees for 10-12 minutes and finish by browning the stuffing under the broiler.
Serve topped with Sauce Béarnaise.
4 Servings
445 Calories, 33.2g Protein, 17.8g Carbs, 8.3g Fiber, 9.5g Net Carbs
Low Carb Scams http://low-carb-scams.com/