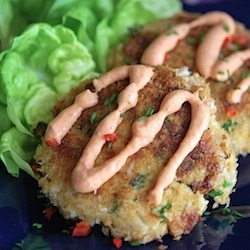 Spicy chipotle aioli, the name pretty well says it all and it's perfect with Crab Cakes
As I am a Type II diabetic, all recipes on this website are low carb and diabetic friendly.
Spicy Chipotle Aioli
2015-01-24 15:23:59
Ingredients
1 C mayonnaise
¼ C Lemon Juice
1 t Dijon Mustard
1 t Crushed Garlic
½ t Chipotle Powder
⅛ t Liquid Smoke (Or More To Taste)
Instructions
Mix all ingredients and refrigerate.
12 Servings
121 Calories, .2g Protein. .4Carbs, .0g Fiber, .4g Net Carbs
Notes
If you want it spicier add a tad more chipotle powder.
Low-Carb Scams http://low-carb-scams.com/