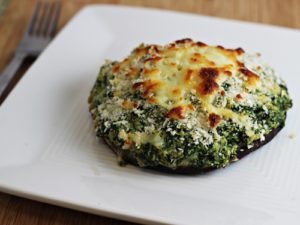 Everybody has their own favorite stuffed mushroom recipe and this Sausage Spinach Stuffed Portobello Mushrooms is only mine. They are good & good for you. Serve 1 as an appetizer or side vegetable and 2 as a main course. I guarantee these are very filling.
As I am a Type II diabetic, all recipes on this website are low carb and diabetic friendly.
Sausage Spinach Stuffed Portobello Shrooms
2014-08-18 06:27:09
Ingredients
4 Large Portobello Mushrooms
¼ Lb Ground Sausage
¼ C Minced Onions
½ C Chopped Spinach
4 Oz Sautéed & Chopped Mushrooms
4 Oz Grated Gruyere Cheese
1 T Butter
½ t Porcini Dust
½ t Salt
¼ t Pepper
Instructions
Preheat oven to 350°
With a small spoon carefully scoop out black gills and if you can, buy mushrooms that are still curled on the edges as these are the most fresh.
Twist out stems, chop finely, add to other chopped mushrooms & sauté in butter.
Cook sausage, retain fat, and sauté onions.
Put sautéed veggies in bowl with rest of ingredients and mix well.
Mound ¼ mixture into each portobello cap and bake until caps are just tender-about 25-30 minutes.
4 Servings
297 Calories, 16.7g Protein, 7.3g Carbs, 2.1g Fiber, 5.2g Net Carbs
Notes
You may also sprinkle a couple teaspoons of Parmesan cheese on top before baking.
Low Carb Scams http://low-carb-scams.com/