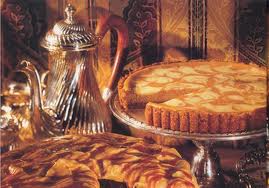 It's the crust and nothing but the crust. These very versatile low carb pie crusts are used in many of the pie recipes on this site in that they can be used for hot or cold pies. Using Just Like Sugar will keep them Paleo. Here are several: Cheesecake Pumpkin Pie, New York Cheesecake, & Cranberry Orange Cream Cheese Pie.
As I am a Type II diabetic, all recipes on this website are low carb and diabetic friendly.
Pie Crusts For Most Any Pie/Two Sizes
2014-10-21 06:34:51
Smaller Crust 8"
1¾ C Almond Flour
½ C Ground Pecans
6 T Just Like Sugar Or 9 Drops Liquid Sucralose
½ C Melted Butter
10 Servings
235 Calories, 4.8g Protein, 5g Carbs, 2.7g Fiber, 2.3 Net Carbs
Larger Crust 9"
2¼ C Almond Flour
¾ C Ground Pecans
½ C Just Like Sugar Or 12 Drops Liquid Sucralose
¾ C Melted Butter
12 Servings
327 Calories, 7.3g Protein, 7.5g Carbs, 4g Fiber, 3.5g Net Carbs
Instructions
Mix all ingredients and press into an 8 x 1¼ " (Small Crust) or 9 x 1½ " (Large Crust) removable bottom cake pans or corresponding sized spring-form pans.
Blind bake crust 12-15 minutes at 350 degrees and then "tamp down" as it will puff up. Return to oven for about 5-10 additional minutes or until it starts to turn slightly brown. Put on counter to cool for cold pie.
Notes
If using spring-form pans try to get your crust up the side at least 1" and 1½" if possible.
These crusts can be used for either hot or cold pies.
More sweetener may be used without adding any additional nutritional profile.
Low-Carb Scams http://low-carb-scams.com/