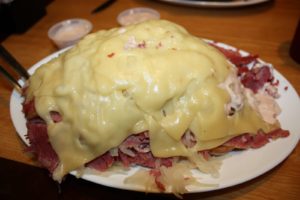 Low Carb Open-Faced Rueben Sandwich. Rueben, Rueben I've been thinking what a fine world this would be…Many of us know this song from childhood with two children each telling the other how good life would be if boys didn't bother girls and girls didn't bother boys and we kinda know how that turns out. Well, it is only a children's fairytale song but this open-faced rueben sandwich is absolutely for real and very easy to make so, enjoy. If you decide to use one slice of bread you will need Carbalose Flour Bread or Naan Flat Bread but it is also very good without any bread. If you don't have 1,000 Island or Russian Dressing the Mississippi Comeback Sauce is absolutely perfect.
As I am a Type II diabetic, all recipes on this website are low carb and diabetic friendly.
Open-Faced Rueben Sandwich
2015-02-09 12:35:52
Ingredients
1 Slice Bread Or 1 Piece Naan Flatbread
1½ t Butter
¼-⅓ Lb Thinly Sliced Corned Beef (Traditional) And Pastrami Is Good Too
⅓ C Well Drained Sauerkraut
2 Oz Swiss Cheese (I Most Often Use Gruyere)
Dressing To Taste & About 2 T
Instructions
Place skillet on medium low heat with butter.
Put bread down first, then meat, then ½ cheese, then sauerkraut, then other ½ cheese.
Put into melted butter, cover and grill until bread has browned and cheese is melted.
Plate sandwich and top with dressing.
This is a pretty hefty portion and can easily be split between two people.
Nutritionals include all ingredients as listed.
1 Serving
667 Calories, 38.7g Protein, 14.5g Carbs, 6.2g Fiber 8.3g Net Carbs
2 Servings
334 Calories, 19.4g Protein, 7.3g Carbs, 3.1g Fiber 4.2g Net Carbs
Notes
Serve with a couple of dill pickle spears.
Nutritionals include bread.
Low Carb Scams http://low-carb-scams.com/