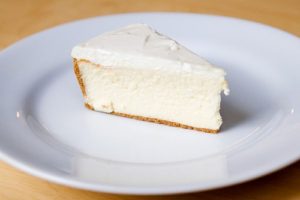 Low Carb New York Cheesecake. The secret to this Low Carb New York Cheesecake is definitely the crust-I mean seriously, how tough is it to make a good low carb cheesecake for Pete's sake?
April 7th, 2011 I submitted a Cheesecake recipe using GG BranCrisps as the crust base. It won some contest and I received a free case of the product. I have to say I am a little embarrassed by it but hey, who isn't embarrassed every once in a while but the one below is far, far better. So I guess if Iamketoincanada thinks her cheesecake is the best low carb keto cheesecake ever, and it's based on mine, what does that make my cheesecake? Maybe the Best Ever, Ever?

You will not be able to tell the difference between this cheesecake and any dense, stick to the roof of your mouth, New York cheesecake. It's the crust and nothing but the crust and now that you have the crust recipe you can apply it to any recipe calling for a graham cracker crust and I would think any low carber would find this an invaluable recipe for any number of pies.
Not exactly a picture of cheesecake, I know, but the picture below is a piece of must have equipment. I use it to tamp down the crust in this recipe, crush juniper berries and to pound all kinds of things. It is very heavy and I have not found any other meat pounder that begins to compare. Norpro Meat Pounder
As I am a Type II diabetic, all recipes on this website are low carb and diabetic friendly.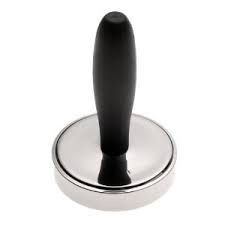 New York Cheesecake
2013-08-13 08:03:18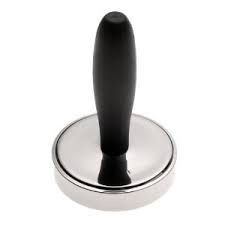 Crust
2¼ C Almond Flour
¾ C Ground Pecans
½ C Just Like Sugar*, 12 drops EZ-Sweetz Liquid Sucralose or Equivalent Sweetener
¾ C Melted Butter
Filling
24 Oz-3 Packages Original Philadelphia Cream Cheese
1 T Vanilla Extract
¾ C Just Like Sugar or 18 Drops EZ-Sweetz Liquid Sucralose
¼ C Heavy Cream
3 Eggs
Topping
½ C Sour Cream
½ t Vanilla Extract
1 Drop EZ-Sweetz Liquid Sucralose
Directions For Crust
Put all ingredients in food processor and mix until well incorporated.
There is no need to butter or spray pan-crust will not stick.
Press well into and up sides of a 9"x1½" round removable bottom cake pan or a 9" springform pan. I prefer to use a cake pan-it is deeper than a tart pan.
Blind bake in preheated 350 degree oven 10 minutes.
Remove from oven and "tamp down" bottom and sides. You want the crust to be 'dense'.
Put back in oven until it just begins to brown.
Remove from oven and maintain heat.
Directions For Filling
Beat cream cheese, vanilla, and sweetener until smooth.
Add eggs 1 at time and blend on low only until mixed.
Add heavy cream and just blend.
The idea is to have as few air bubbles as possible.
Fill baked crust. It will be full-but have no fear.
Bake 10 minutes at 325 degrees, turn down heat to 300 degrees and bake 30-35 minutes longer or until just barely set in center.
Remove from oven, cool completely, on counter top.
Directions For Topping
Mix well and cover top of cooled cheesecake being careful not to get on crust.
Return to preheated 400 degree oven for 8 minutes.
Cool again. Cover, and refrigerate for at least 4 hours. Overnight is better. The longer it is in the refrigerator the more dense it will become.
I add 6 medium mashed up strawberries, 2 T of water, and mix with 1 drop EZ-Sweetz Liquid to top. my cheesecake If any topping is added it will increase carbs just slightly.
Serves 16
402 Calories, 8.6g Protein, 6.4g Carbs, 2.4g Fiber 4.0g Net Carbs
Low Carb Scams http://low-carb-scams.com/
For a smaller crust:
Smaller Crust
2013-09-19 12:35:55
Ingredients
1¾ C Almond Flour
½ C Ground Pecans
6 T *Just Like Sugar or 9 drops EZ-Sweetz Liquid Sucralose
½ C Melted Butter
Low Carb Scams http://low-carb-scams.com/