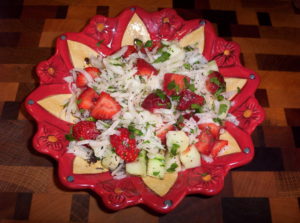 Low Carb Jicama Strawberry Cucumber Salad. I have been on a jicama kick lately and this jicama strawberry cucumber salad, with only a hint of sweetness, is about as light and tasty as it sounds. I have eaten jicama for many years, know a lot of different ways to use it and it is a naturally low carb food. Here are a couple other salads with jicama as an ingredient Saucy Crunchy Peanut Salad and Bacon Almond & Avocado Salad
As I am a Type II diabetic, all recipes on this website are low carb and diabetic friendly.
Jicama Strawberry Cucumber Salad
2016-09-04 09:14:15
Ingredients
4 C Grated Jicama
1 Medium Cucumber Peeled & Halved With Seeds Removed
16 Medium Strawberries (2 Each Person)
¼ C Chopped Cilantro
⅓ C Olive Oil
2 Limes Juiced
2 T Low Carb Sweetener Of Choice* (Just Like Sugar To Keep It Paleo)
1 t Poppy Seeds
Instructions
Grate jicama and put in mixing bowl.
Cut cucumber halves into three lengths each cut into ½" pieces and add to jicama.
Quarter then halve strawberries (8 pieces each) and add to bowl.
Mix rest of ingredients, pour over veggies and toss lightly.
Plate.
8 Servings
109 Calories, .7g Protein, 8.9g Fat, 7.9g Carbs, 3.6g Fiber, 4.3g Net Carbs
Notes
One of the cool things about jicama is that it will not turn brown so if you want to grate it ahead of time it will be fine.
If you end up with leftovers it will turn pink from the strawberries but will of course taste great.
*I use 2 drops of liquid Sucralose.
Low Carb Scams http://low-carb-scams.com/