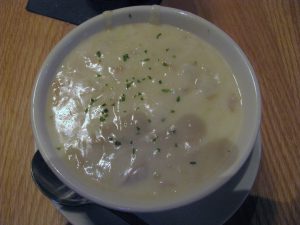 I learned to make this clam chowder 40 years ago (my, my how time flies) from "Chef Bob" who was of course from Boston. There are two secrets. One is using salt pork (not bacon) and the other is the addition of thyme. My only change from the original is that I have cut out the potatoes and flour and use pureed cauliflower to thicken it.
I hope you enjoy it.
As I am a Type II diabetic, all recipes on this website are low carb and diabetic friendly.
Clam Chowder
2013-09-02 13:17:57
Ingredients
¼ lb Salt Pork ¼" Dice
1 C Onion ¼" Dice
4 Cans Chopped Clams (Reserve Juice)
¼ t Thyme Dried
3 C Water
2 C Heavy Cream
1 t Chicken Base Paste (I use a premium chicken base made by R L Schreiber)
1-2 C Cauliflower Puréed with stick blender depending on how thick you want your soup.
Fresh Pepper to Taste
Correct Seasoning When Finished
Directions
Cut and dice salt pork into ¼" dice. This is pretty small and the easiest way to do it is to have the salt port partially frozen. Sauté on medium low until very crispy. Should take about 15-20 minutes. Remove lardoons and retain fat.
Sauté onions in remaining lard until translucent.
Put the thyme in the palm of your hand, crush it, and add to onions.
Add clams and about ½ of reserved juice.
Add water and heavy cream and heat all.
Stir in puréed cauliflower to thickness desired.
Correct seasoning to taste.
Put soup in bowl and sprinkle on lardoons.
If you have any leftover soup just add the rest of the lardoons.
Serves 6
485 Calories, 3.9g Protein, 7.93g Carbs, 1.2g Fiber 6.73g Net Carbs
Low-Carb Scams http://low-carb-scams.com/