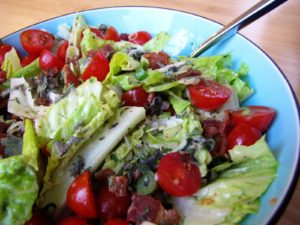 The Canlis restaurant is a Seattle, WA institution. I myself have never eaten there and after looking at their menu (no individual prices) I can see why. It's expensive and I'll bet well worth it. The recipe for this salad is perhaps their signature dish and if not, it is certainly what they are most famous for.
From their website: "Of all the recipes requested, none is more cherished than the Canlis Salad. Taught to him by his Lebanese mother, the Canlis salad was perfected by Peter Canlis and introduced to the world on opening night, December 11, 1950. Served in homes and restaurants around the world, the recipe, [as it appears below], is one of our family's prized possessions". Yea, I tweaked it for low carb, a bit more to my liking, and took out the croutons.
As I am a Type II diabetic, all recipes on this website are low carb and diabetic friendly.
Canlis Salad
2015-05-14 13:27:44
Ingredients
2 Small Or 1 Large Head Romaine
½ Lb Crispy Cooked Chopped Bacon
18 Halved Cherry Tomatoes Or 2 Medium Chopped
¼ C Chopped Fresh Mint (Optional But Original)
¼ C Slivered Green Onion Tops
½ C Parmesan Cheese
½ C Olive Oil
1 Egg (There Is A Trick Here)
1 T Crushed Garlic
¼ C Lemon Juice
¾ t Dried Oregano + More To Taste
½ t Salt
Lots Fresh Ground Pepper
Instructions
Wash, dry, chop, cover and refrigerate lettuce in a large bowl. (It will get super crispy).
Cook & chop bacon.
Halve the tomatoes.
Carefully put your egg into a cup (without breaking it and gently pour boiling water on it and count to 60 you know, like a one minute egg. This is the easy way to coddle an egg. If you bust the egg then don't pour the water in-just use it *raw. (See Caesar Dressing and note below).
Pour off water and put egg into small processor along with the garlic, lemon juice, oregano, & salt.
Slowly pour in the olive oil.
Add Parmesan cheese and pulse a couple of times to mix.
Add bacon, tomatoes, mint, and green onions & toss to mix.
Add dressing to coat all.
Serve with lots of fresh ground pepper.
6 Servings
397 Calories, 9.7g Protein, 6.2g Carbs, 2.6g Fiber, 3.6g Net Carb
Notes
*I personally do not coddle my eggs but some people are still squeamish about raw eggs even though they have been pasteurized for many years now. Go figure.
Low-Carb Scams http://low-carb-scams.com/