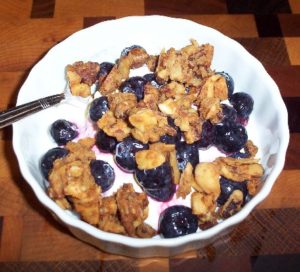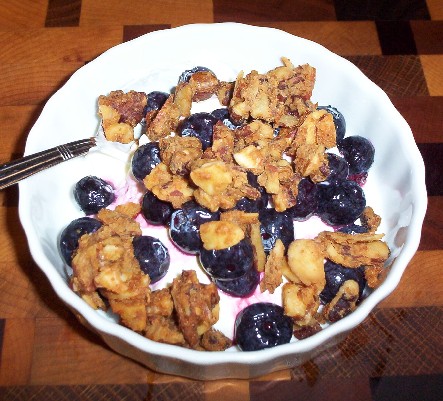 Please See Update Below: I eat this Real LCHF Greek Yogurt most every morning with Granola and blueberries, come rain or shine. (In Portland, Oregon that would be mostly rain). I don't exactly know how to tell you what the nutritionals are for this yogurt because 1.) I strain mine to make real Greek yogurt (the whey has lots of carbs, and 2). I use 40% heavy cream which has fewer carbs than 36%. Anyway I know it is low carb high fat. There are 60 calories and 13g carb in one cup of liquid whey and the whole recipe, when strained, gets between 2-2¼ cups of whey liquid or a little over a cup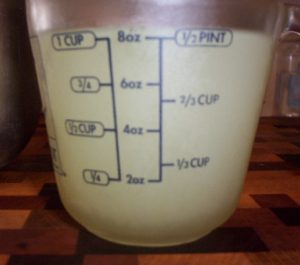 per quart. In the Middle East strained yogurt, or labneh, has salt added, spices if desired, is drizzled with olive oil and then using an olive, a slice of cucumber, or any number of other vegetables used as a scoop, is dipped into the yogurt and eaten with the fingers. It is often eaten at breakfast or as mezze before a meal. I had the opportunity to visit Dubai about 6 years ago and was introduced to this way of eating. It was truly heavenly.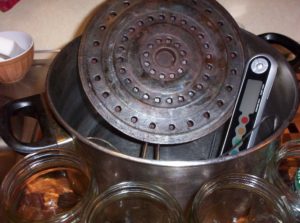 Pictured is all the equipment you will need. The jars (4) are my saved ½ quart Tahini glass jars as I have made tons of Baba Ganoush over the years and they work perfectly but any 2 C lidded glass jars will work. A heavy duty 8 qt pot, a digital thermometer, and a heat diffuser (don't ya just love that antique puppy) are absolute musts if you are going to make this on the stovetop and on the cheap. If you have one of those new fangled ½ gallon yogurt makers then you will not need a couple of the items pictured but I am definitely a minimalist when it comes to kitchen equipment as I tend to figure out how to do something with what I already have.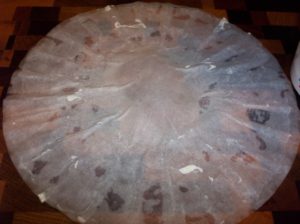 As you can see if done properly, the strained yogurt will come out of the filters completely. I put my yogurt in an old 1½ lb. Daisy Sour Cream Tub and I guarantee this will be the best Greek yogurt you ever eat.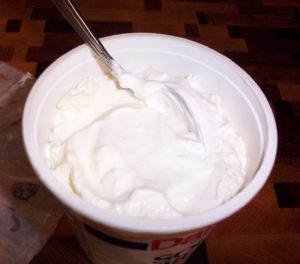 This process will only work on an electric stove. It is my best guess you would not begin to be able to control a low enough temperature with gas and even for an electric stove you do need the heavy pot and heat diffuser. If you have a large family eating yogurt every day the recipe for 1 gallon is here: Yogurt
Update: That was then and this is now. So, I got myself a new toy to make yogurt. It's a sous vide stick and the cool thing about this is…it does not need to be done on the stove, and you don't need a digital thermometer as there is one built in. I know it looks like it has ice cubes in it but I can assure it kept the temperature at a steady 118° for 18 hours. All you need is just any flat surface with access to a plug and best of all, it does all kinds of meats too. The other picture is a beef tenderloin I did last night. In order to get it to look like a steak (meat tends to come out looking a pinkish grey) I blow-torched it a bit.
As I am a Type II diabetic, all recipes on this website are low carb and diabetic friendly.
Real Greek Yogurt
2015-10-03 11:07:12
Ingredients
4 C 40% Heavy Cream
4 C Whole Milk
2 Pkgs. Yogourmet Starter
Instructions
Pour heavy cream and milk into a sauce pan that will hold a little more than 2 quarts, heat on medium, stirring often, and monitoring with thermometer, heat until mixture reaches 180°.
Turn off stove, stir occasionally, and cool to 120°.
Meanwhile as your mixture is cooling put an 8-quart heavy duty stockpot, centered on top of the heat diffuser on one of the small burners and turn to warm. (Lowest setting possible) I use about 13 cups of 124°-125° water but you will need to put water to the milk level in the jars. I emphasize heavy duty because anything else will eventually get warmer than 122°. Water will cool after jars are added which is why you want the water a bit higher than the long term incubation temperature.
In a small mixing bowl add 2 cups of cooled mixture to 2 packets of Yogourmet, stir well, add back in, and stir well again.
Funnel into four 2 cup glass jars and screw the tops lightly.
Put the digital thermometer in the water and maintain 115°-120° degrees for about 18 hours. Once you add your jars, the temperature will drop but that's OK-just remember you can actually let the temperature drop as low as 110°. I just prefer the higher temps. To control the temperature cock or pull back a lid/cover about ¾" over your pot. You'll only need to monitor the first couple hours in the beginning and then you should be good to go for 18 hours. If the temperature increases a couple of degrees move the top back a little. Do not let water temperature go above 122 degrees as it will kill the culture if left long term.
After 18 hours take out jars, dry them, and put in the refrigerator. If you are tempted to taste it-go for it. Warm yogurt is divine. I try to start the whole process about 11:00AM, have it cooled, jarred, and into the water by about 1:00PM, incubate over night, and refrigerate in the morning about 7:00AM.
If you plan to strain the yogurt then you may begin with the first 2 jars before refrigeration as it will slide out of the jars most easily when warm. (See Picture) The strainer will be full but will begin to go down quite soon as the whey begins to drain. Strain, uncovered for about 24 hours and you may need to empty the whey a couple of times. I line my strainer with two large coffee filters because after trying to use only one, I found they tended to tear easily. Two takes care of the problem. Carefully remove yogurt into appropriate size container and I use a much used 1.5 lb Daisy sour cream container. If you are doing this for the first time it is a learning experience and after that, it will be second nature and Easy Peesy Japanesy. Remember, as you are sleeping there will be magic happening in your kitchen.
Unstrained cooled yogurt will still be relatively thick. I strain mine 4 cups at a time to make Greek yogurt but it is not necessary. If you decide to strain it, this is what real Greek yogurt is-not the crap that passes for Greek yogurt in any grocery store.
20-¼ C Strained Servings
194 Calories, 2.6g Protein, 19.2g Fat, 3.5g Carbs, 0g Fiber, 3.5 Net Carbs
Notes
It is my best guess that the carb content in this yogurt is closer to 2g-3g because it is incubated for so long. (18 hours) The long incubation period breaks down the lactose sugar and in the end there is not much sugar left, especially after straining but the nutritionals do include the whey.
If strained it will be the richest creamiest yogurt you ever have.
Try straining Chobani yogurt and see what you get. A lot of whey with left over chalk.-believe me I tried it.
Low Carb Scams http://low-carb-scams.com/